While our beaches are fully staffed by volunteer profiling teams at the moment, we are always in need of new volunteers to serve on our beach profiling substitute list! If you're interested in learning more about how to volunteer as a substitute monitor, contact Wells.
What is beach profiling? 
Beaches are constantly changing! Forces like storms, ocean currents, and changes in sea level work together to add and remove sand from the beach. Beach profiling is a simple way to track these changes over time. By measuring the contour, or profile, of a beach at regular monthly intervals, we can observe long-term patterns of sand erosion and accretion. Our volunteers are currently monitoring six beaches on the New Hampshire coast for changes year-round.
What do Beach Profiling Volunteers Do?
Volunteers work in teams of three to take beach profiles once per month on a particular beach. CRV provides all necessary materials, an initial training session, and additional training and support throughout the year. Interested volunteers can get a group together and sign up as a team of three, or you can sign up as an individual or pair - if you sign up without a team, we will connect you with other volunteers to form a team.
Beach profiling volunteers commit to one beach profile per month, and each profiling session will take about 1-2 hours to complete. Teams will be given a list of three to five optimal profiling days for each month which coincide with the month's lowest tides. Volunteers will coordinate with their profiling team to choose the best day each month for their team to profile.
If you are interested in beach profiling but unable to commit to a monthly schedule, we also need volunteers to serve as substitutes in the event that a regular team has to miss a profiling session. And we are seeking trained beach profiling volunteers to form a special response team that will conduct beach profiles on short notice after storms pass through.
Volunteer beach profiling is an exciting collaboration between the Coastal Research Volunteers, the NHDES Coastal Program, and the UNH Center for Coastal and Ocean Mapping to fill a gap in our knowledge of the resilience of New Hampshire's beaches. Data collected by volunteers will be analyzed by professional geologists and made available for municipal and regional planners and beach managers.
Data from the first four years of the NH Beach Profile Monitoring Program are becoming available! Read summaries for each beach we monitor, as well as our report of trends from 2016-2020.
Read the full, interactive story about how Sea Grant volunteers are helping communities learn more about their valuable beaches and changing coastlines, here. And stay tuned for more data reports!
Interest in helping monitor changes in the beach
Ability to work as part of a team
Interest in enjoying 1-2 hours/month on the beach, even in the wintertime!
Meet people from your community with similar interests
Opportunities for continuing education in beach ecology and geology
Contribute to a long-term dataset used to understand New Hampshire's beaches and improve our understanding of beach resilience
Join our beach profiling effort!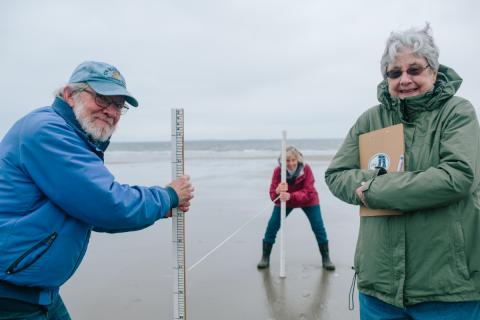 Do you love our New Hampshire beaches? Do you want to learn more about the science behind why our beaches look the way they do, see the beach in a new way, and get to know others in the community who are just as motivated to care for our beaches?
We are always in need of new substitute beach profile monitors. Contact Wells for more information on how to become involved.
Links, resources, and partner organizations
Want to learn more? Read this interactive story about how Sea Grant volunteers are helping communities learn more about their valuable beaches and changing coastlines.
Our partners at Maine Sea Grant have been conducting volunteer beach profiling for almost twenty years, and you can read all about their profiling work, watch their introductory video to learn what beach profiling is all about, or read more about how beach profiling has been used to help create beach management plans.
Visit our page containing all beach profiling data products, including a data portal to browse and compare profiles.
Volunteer Resources