What is Eel Monitoring?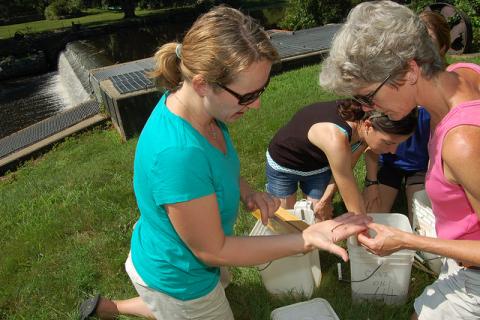 American Eels are some of New Hampshire's most fascinating creatures. Born in the Sargasso Sea, east of Bermuda, the tiny larval eels drift for months on ocean currents that eventually bring them to the shores of the East Coast. As eels mature, they grow a little bigger, develop new coloration, and swim up the rivers of the East Coast into freshwater, where they spend most of their adult lives.
The American Eel is also a commercially important species, so there is a strong federal and state effort to monitor their population status. Since 2013, the Coastal Research Volunteers have assisted NH Fish and Game in expanding the number of sites at which they monitor eel migration. Coastal Research Volunteers conduct daily monitoring at an eel migration site on the Oyster River.
What do Eel Monitoring Volunteers Do?
Coastal Research Volunteers monitor migrating eels once daily, Monday through Friday, for the duration of the eels' migration, typically early May through July. After attending a training session, volunteers can sign up online for eel monitoring shifts. A typical shift consists of two to three volunteers working together to remove eels from the instream trap where they've been held since the last monitoring shift, count them, measure them, and note their coloration, and then release them to continue their migration upstream.
Trained eel monitoring volunteers are able to sign up to fill daily eel monitoring shifts. A typical shift lasts 1-2.5 hours, and volunteers can sign up for as many or as few shifts as they'd like.
Interest in handling eels!
Meet people from your community with similar interests
Opportunity to handle and learn about a fascinating, lesser-known critter in New Hampshire's rivers and estuaries
Contribute to a long-term dataset used to improve management of the American Eel population