The Climate in the Classroom program was piloted in 2016 by UNH Extension, NH Sea Grant, and Strafford Regional Planning Commission, in partnership with two 5th grade teachers at Oyster River Middle School. The program was designed to engage both students and their family members in learning about climate change. Since then, the program has expanded through a two-day teacher training in June 2019, organized in collaboration with the Great Bay National Estuarine Research Reserve's Teachers on the Estuary (TOTE) program. UNH Extension, NH Sea Grant, and other partners have worked with teachers at three additional schools (Portsmouth Middle School, Lincoln Akerman School, Winnacunnet High School) to implement the program, and teachers at several other schools have also implemented the program independently.
Program Goals:
Build climate literacy among middle- and high-school students in New Hampshire
Support teachers in integrating climate change in their classrooms
Empower students to engage their family and community members in discussion around climate change
Contact
Lisa Wise
Climate Adaptation Program Manager
lisa.wise@unh.edu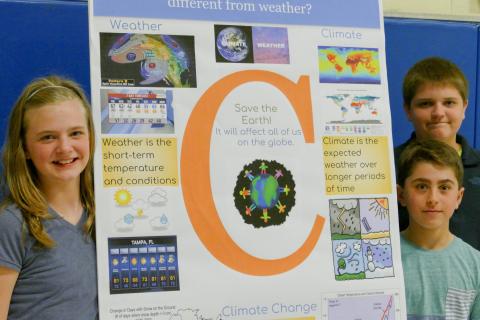 The Climate in the Classroom program currently operates through the collaborative efforts of the New Hampshire Coastal Adaptation Workgroup (CAW) a coalition of nearly 20 organizations, agencies, and municipalities working with NH's coastal communities to improve their climate readiness.
---

NH Sea Grant partners with UNH Cooperative Extension to achieve shared goals in climate adaptation.
We help New Hampshire communities prepare for the impacts of a changing climate by organizing educational workshops, providing information, facilitating community conversations around vulnerabilities and priorities, conducting school programs, and connecting communities to the resources they need to adapt to climate change.