Your family can build this wonderful sailboat in just 3 days. Join us!
Family boat building is grounded in the belief that families and multi-generational groups will bond and grow together by completing a grand project together. In the past thirteen years, we have helped 72 families get on the water together and enjoy the experience of a lifetime. Participating families experience the joy and pride of watching a pile of lumber grow into a beautiful and useful boat through their own efforts. In the process, they grow as a family while they:
Develop woodworking and teamwork skills and
Learn about our marine heritage and the natural resources of our coastal and estuarine environment
In the spring of 2023, we will build the Oyster River Cat, a 12' sailboat. A professionally made sail is included. The marine plywood hull has a 5' beam that easily carries two adults or even three in light wind. She is equally adept as a row boat for calm days at the lake.
Age requirements: Each family must include at least one child age 12 or older. This program is not ideal for children younger than age 12 due to the attention span and physical work required; however exceptions have been made for eager, mature 10 and 11-year-olds. Multi-generational families, extended families, and single parents are encouraged to apply.
Boat Building Timeline
Application Period: Now accepting applications for Family Boat Building in May 2023!
Cost of Program: $2,500. Cost includes all materials, instruction, and assistance required to build your own a 12ft Oyster River Cat sailboat.
Build Dates: Friday through Sunday, May 19 - 21, 2023.
Mandatory Introduction Session: Thursday, May 18, 2023, evening before the build begins
Questions? If you would like more information or want to be considered as a participant, please contact:
Dari Christenson
Marine Education Program Manager
NH Sea Grant & UNH Cooperative Extension
Dari.Christenson@unh.edu
(603) 862-6701
Important Information
The Oyster River Cat
This boat was specifically designed for our family boat building program. Overall length is 11' 4" with a beam of 5'. Draft is 30" with the dagger board down, less than 6" with it up. The wide beam and flat bottom make it very stable. It easily carries two adults or even three when rowing. The spars are solid spruce. The 60 sq. ft. sail in a Gunter configuration makes her a sprightly sailer. Construction is marine grade ¼" plywood over 5/8" plywood frames and transom. Fastenings are stainless or bronze. Modern adhesives virtually assure watertight integrity. The hull weighs about 120 pounds and can be transported car-top, in a pickup, or on a small trailer. The floorboards and sail rig, which are removable and shorter than the boat, are easily stored in the boat or separately for transport. A sample of the completed boat will be available at the farm for viewing or guidance during construction. Everything (except paint, oars, and life jackets) is provided to get you on the water.
The parts are all pre-made during the winter before spring construction begins. Precision machining has been done to ensure accuracy. Only hand tools are required to do a professional job completing the boat. Each family is provided a step-by-step instruction manual filled with tips and diagrams to make assembly understandable. And, of course, your Docent mentor will be there to help you every step of the way. When you arrive for the first day of work, all the parts and special building jig will be in place to get you off to a fast start. Counting every piece of wood, nail, screw, line, and hardware you will use more than 500 components. Building is done in a large equipment shed open on one side. Plan to bring your lunch, dress warmly, and be prepared to get dirty.
Tools & Supplies Provided by Participant
The tools needed are usually found in every home tool box. If you are missing some and can't borrow or purchase them please let us know. We may be able to arrange for you to borrow tools from the Docents. A sharp box plane is especially useful. If you only have a large plane, or it has seen better days, a new box plane can be purchased for less than $20.
Please make every effort to bring all the tools and supplies.  Not having the right tools and supplies will only slow the process and you need all the time available.
---
Basic Tools Needed
Electric drill (preferably cordless)
Countersink
Sander (hand block, orbital or belt sander) and sandpaper
Hammer
Pliers
Chisels
Screwdrivers (Phillips and straight)
Low angle block plane
Hand saw
Saber saw (electric)
Spirit level
Files (course and fine)
3 lb. sledge, 10" handle for use as bucking iron
Heavy duty extension cord
Tape measure
Tri-square
Compass with pencil
Clamps, 6" bar type and/or 6" C-type (qty 6 each)
Putty knife or disposable spatula (for applying glue)
Pencils
Level (4' or various lengths)
Awl
Optional Tools
Sliding bevel gauge (hardware version is fine)
Wood rasp
Supplies
Safety glasses
Earplugs
Gloves for handling wood
Rubber gloves for work with glue
Scraper
Paper towels
Cotton rags (old T-shirts)
Cleaning solvent (e.g., turpentine)
Japanese saw
Wear old clothes
Shop rules during construction:
The construction will take place in a large equipment shed at the UNH Kingman Farm in Madbury, NH, near the UNH campus. Building jigs and shelter are provided. There is limited power, which must be shared. There is no heat. Because we are guests, participants must be especially mindful of parking, toilet facilities, and clean up.
Additional observer guests can be accommodated with permission. Very small children will require supervision by non-builders to keep construction on schedule.
Shop rules and safety procedures must be followed assiduously. No power tools are allowed except drill, saber/jig saw, and sander.
---
Check out the daily construction images of our boats in progress:
Start of Day 1 - Friday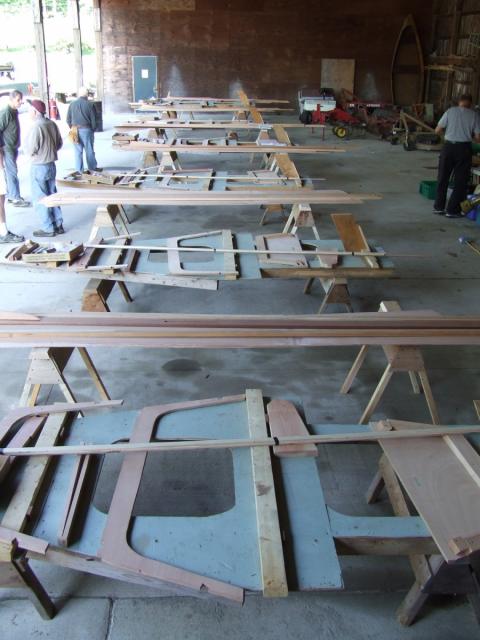 The building jig and all parts are ready for an early start for your family and your Docent mentor. Work begins with the installation of frames, stem, and transom, followed by fitting chines and rails. The sides are fitted and installed, then chines and sides are planed and the bottom fitted and installed. Look at the next photo to see how much you will accomplish in one day!
Photo by John Badger
Start of Day 2 - Saturday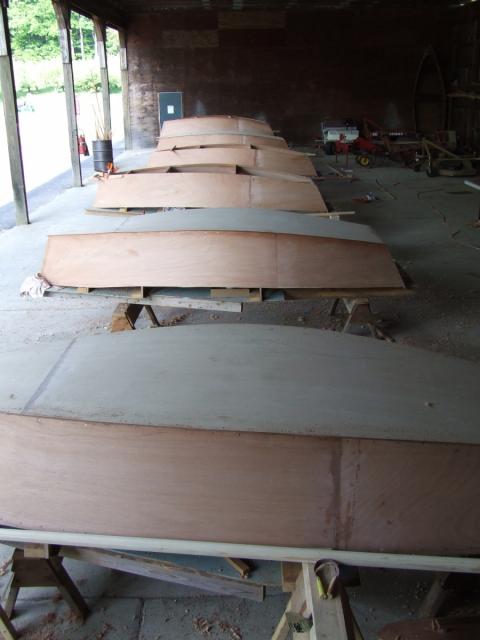 The keel and centerboard installation are the first order of business. A milestone is freeing the boat from the jig and turning it over. The floor boards are fitted and the seat risers, gunwales, king plank, and knees are installed. Now it really looks like a boat and you are convinced you will be successful.
Photo by John Badger
Start of Day 3 - Sunday
Now a lot of time consuming detail is required to install the mast step, deck, and rudder, shape the spars, and fit the seat. Drilling the mast hole in the deck allows fitting and installing the spars. The final step is bending on the sail and learning to use the reefing system. You are ready to clean up, put away the building jig, and take your boat home.
Photo by John Badger
Transportation
Your boat fits in the bed of a pickup truck, on a small trailer, or even on top of a car with a roof rack. With the floor boards, seat, and spars removed (no tools required) the boat is light enough for two adults to install car-top. Even fully rigged it can be carried a short distance to the water.
To transport by car top you will need a pair of 5ft-long 2x4's tied to the roof rack to span the beam of the boat. We purchased a small boat trailer for about $325.
You must make provision to take the boat home at the end of construction on Sunday (the last day of the build). The shed will be returned to the farm equipment normally housed there on Monday.
Be prepared to transport the boat to Mendums Pond for your free sailing lesson in June (usually 2-3 weeks after building).
---
Applying the Finish
You are free to finish the boat in any way that pleases you. We provide a recommended procedure and list of products to protect and beautify the boat. Several coats of paint, varnish, or polyurethane are required to provide the protection your work of art deserves. But, don't get carried away. This is not a piano, but a hard working craft that should get its share of fish bait, sand, and grit.
Plan to spend at least $100 and at least a week prepping and painting. It is time consuming, but worth the time, money, and effort. And, everyone can pitch in, continuing the family bonding. Everyone knows how to sand and paint.
You will want to have the boat looking good for the first sail in June (usually 2-3 weeks after building). But, even if you aren't finished, don't miss the chance to take the sailing lesson! You can complete the finish-work after the lesson.