You are likely to get your hands wet as you learn about marine and estuarine ecosystems on this informal, educational cruise. You'll be invited to:
Tow for plankton and marvel at its movement in a magnifying scope
Capture water from below the surface and test its characteristics
Observe, handle, and hear about plants and animals from unique habitats
Watch an otter trawl deployment and learn about the organisms it retrieves
Find out what scientists study about the Great Bay Estuary
The Great Bay Estuary adds approximately 150 miles to New Hampshire's relatively small coastline. Those 150 miles include everything from industrial, historical and military landmarks to a wildlife refuge and National Estuarine Research Reserve. There will be opportunities to learn more about these landmarks and share what you know. There is also plenty of time on-board to just enjoy the fresh air, sights and sounds of the estuary with your on-board companions as we scan for bald eagles, osprey, and harbor seals.
You will cruise aboard UNH's 50 foot research vessel, R/V Gulf Challenger, under the guidance of the enthusiastic and knowledgeable UNH Marine Docents, a NH Sea Grant Extension specialist, and the crew of the Gulf Challenger. Time aboard the boat is approximately 5 hours including about a half-hour visit to the Jackson Estuarine Laboratory.
---
Details
Open to members of the public on a first come, first served basis
Who: Adults & children 10 years of age and older (must be accompanied by an adult)
Cost: $45 for adults (ages 18+), and $30 for youth (ages 10-17)
Click on the cruise date below to register. Registration opens on March 15.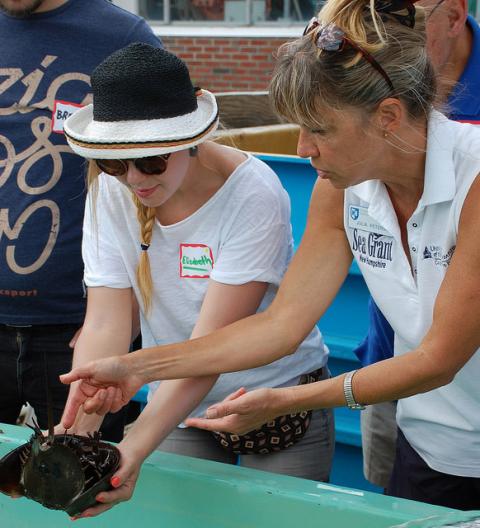 Sign up for cruise notifications
---
Sold out cruises:
Each cruise has a waiting list. The system will automatically invite the first person on the waiting list to register when a space is available. You will have 12 hours to  register before the system invites the next person on the list, and so on.
Departure Location: UNH Pier next to the U.S. Coast Guard Station at Fort Point in New Castle, NH (Address: 29 Wentworth Rd, New Castle, NH)
Timing:
8:15 a.m. Mandatory check-in
8:30 a.m. Orientation at the dock
9:00 a.m. Departure
2:30 p.m. Return to the dock
Parking: Parking at the UNH Pier is limited, so please attempt to carpool if you are cruising with a family or large group. Parking is located in front of the entrance to Fort Constitution, along the left side of the access road to the U.S. Coast Guard Station.
Important Cruise Information
Attire: To ensure your comfort on the cruise, plan to dress for variable weather and to be exposed to the elements much of the time, although there is some space down below for use as needed. Bring a hat, sunglasses, sunblock, and warm outer layer (sweater, light jacket,etc.). We cruise rain or shine! All passengers should wear comfortable, sturdy shoes (close-toed footwear is preferred) for walking and standing on a dock and boat deck.
Lunch: Bring a brown-bag lunch and light snacks to eat while we make our way up the Piscataqua River or during our stop at Jackson Estuarine Lab. There is NOT a snack bar on the vessel or food available to purchase during the cruise. Make sure to bring a water bottle and remember to stay hydrated during the cruise!
Required Waivers: Each passenger is required to have a signed wavier in order to participate. Bring the signed waiver with you on the day of your EcoCruise. Click here to download the required waivers.
Expectations & Attitude: The cruises are best experienced with an attitude for adventure and learning, sure to ignite your curiosity and provide an unforgettable experience!
Terrain & Comfort: Some walking is required, mostly embarking and disembarking from the vessel. Passengers must be able to navigate steep ramps and floating docks. Seating is very limited, except on deck surfaces.
About the Vessel: This program is approximately six hours in duration with a majority of the program taking place aboard UNH's research vessel Gulf Challenger. This is a working research vessel (NOT a standard passenger vessel), which provides insight on how marine research is conducted and therefore does not provide amenities one might find on a passenger vessel. Participants must be prepared to stand for the duration of the program and will have limited protection from sun, rain, or spray. There is limited seating available below deck and it is only accessible via a steep set of stairs. Toilet facilities, in addition to being small, are accessed by using a steep set of stairs. Participants are encouraged to use the toilet facilities located at the Judd Gregg Marine Research Complex.
About the Pier: The R/V Gulf Challenger departs from UNH's Judd Gregg Marine Research Complex. This is a working research pier. Access to the vessel is via a steep floating ramp. The slope of the ramp varies with the tide. This program includes a visit to UNH's Jackson Estuarine Laboratory. Participants will disembark from the R/V Gulf Challenger onto a floating dock and up a steep ramp.
Restrooms: There are toilet facilities at the UNH Pier facility, aboard the R/V Gulf Challenger, and at Jackson Lab.
Seasickness: If concerns about seasickness have prevented you from exploring coastal waterways, this is the perfect cruise for you. Sea conditions in Great Bay are generally very calm and risk of seasickness is extremely low.
Special Accommodations: Participants requiring special accommodations, such as the use of an American Sign Language interpreter or assistive listening device, should contact Dari Christenson at dari.christenson@unh.edu at least two weeks prior to cruise date.
Each passenger is required to have a signed wavier in order to participate. Families can be included on one sheet.
Click here to download the cruise waivers
Bring waivers with you the morning of your cruise.
Full payment is required to reserve a space on the cruise.
In the event that NH Sea Grant is required to cancel cruises due to COVID-19 guidance from federal, state, and local health officials, all affected participants will receive a full refund. Read our up-to-date COVID statement.
If the cruise is proceeding as scheduled and you decide to cancel your reservation, you will receive a full refund only if you log into the reservation system and cancel your reservation at least three business days before the cruise. You may also call our main office at (603) 862-6700.
Cruises go rain or shine and will only rarely get canceled due to severe weather, dangerous marine/sea conditions, or inadequate reservations. In case of severe weather or dangerous sea conditions, registrants will be called early in the morning the day of the cruise. If your cruise is canceled due to inclement weather, dangerous seas, or inadequate reservations, you will receive a full refund.