Why are sand dunes important?
Dunes improve "coastal resilience," acting as a barrier to storm surge and flooding, protecting adjacent property and infrastructure.
Dunes serve as significant wildlife habitat, including habitat for endangered species.
Sand dunes provide a sand source that nourishes eroding beaches and feeds nearshore sand bars during storms.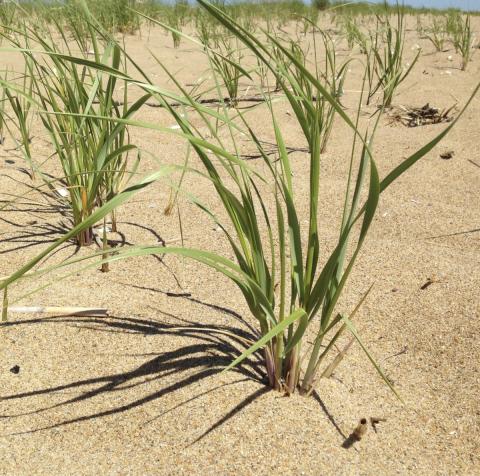 Restoring Dunes with Vegetation
Sand dunes are a constantly changing system. However, planting beachgrass and other native dune plants in areas where vegetation is scarce can help the natural building processes of dunes.
Dune vegetation traps wind-blown sand and rebuilds the dunes over time.
Areas where dune vegetation is destroyed (e.g., walkways) can funnel storm energy which can damage property and infrastructure.
Replanting in degraded areas can help rebuild the dunes and their capacity to reduce the impacts of storms. It is important to use designated pathways to allow these areas to grow and rebuild.
Sand fencing
The installation of sand fencing helps add sand volume quickly to the dunes. The fencing captures wind-blown sand while directing beach traffic to limit damage to dune plants.
Coastal communities are critical partners in our sand dune restoration efforts. We strive to engage local residents in all stages of our projects, including community meetings and on the ground restoration work.
Project Locations:
Hampton and Seabrook, NH
Newbury, MA
Newbury, Newburyport & Salisbury, MA
Newbury, MA Dune Restoration
Dune Revegetation
Sand dune vegetation plays an important role in trapping sand to build dunes. In addition, the roots of dune plants assist in anchoring the dune in place. Seeds harvested from native plants within the Newbury dunes were propogated at UNH's Jackson Estuarine Laboratory, and by horticulture students at Dover High School, to provide plants for revegetation efforts. In addition, plants were purchased from a local nursery and donated from a local property owner to provide the volume needed to plant the restoration area. Native species used in the restoration project include American beach grass, seaside goldenrod, sea rocket and beach pea.
The team worked with over 125 volunteers including local citizens, school children, NH Sea Grant/UNH Cooperative Extension's Coastal Research Volunteer program, as well as students from UNH, to revegetate the Newbury dunes. Over 30,000 plugs of beach grass were established, approximately 6,000 goldenrod, and  1000 sea rocket and beach pea were planted between Fall 2014 and Spring 2015.
Sand Fencing
Sand fencing was erected to assist in capturing sand to build up the dunes, as well as to protect newly planted vegetation. Volunteers assisted in installing over 1000 linear feet of sand fencing in Newbury.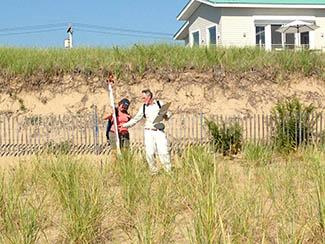 Dune profiles
Using laser level survey equipment, the project team with help from volunteers, takes measurements of the profile of the dune (i.e., in a line from the land to the ocean). By collecting this information over time, we can understand the change in shape of the dunes, and gains/losses in sand volume, data collection points were established throughout the dune system.
Get Involved
Volunteer opportunities are available for people of all ages. Calendar coming soon.
Contacts
Alyson Eberhardt, Ph.D.
Coastal Ecosystems Specialist,
NH Sea Grant &
UNH Cooperative Extension
alyson.eberhardt@unh.edu
(603) 862-6709
Gregg Moore, Ph.D.
Research Associate Professor, UNH
gregg.moore@unh.edu
David Burdick, Ph.D.
Interim Director, Jackson Estuarine Lab
Research Associate Professor, UNH
david.burdick@unh.edu