Helping to Grow Sustainable Aquaculture in New Hampshire and Beyond
Aquaculture has great potential to sustainably produce seafood for a hungry world while helping our fishing and coastal communities build resilience to environmental and economic change. To help realize this potential, NH Sea Grant has been developing, educating and training individuals in responsible aquaculture methods.
Read about NH Sea Grant's $1.4 million aquaculture research award as part of NOAA's 2018 National Sea Grant Aquaculture Initiative.
Current Projects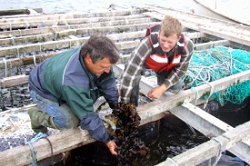 Northeast Ocean Data and the NH Dept. of Environmental Services (NHDES) recently released an interactive map of New Hampshire's permitted aquaculture sites, including NH Sea Grant and UNH's multi-trophic aquaculture sites. View the interactive map.