Fast Facts: What are Green Crab Surveys?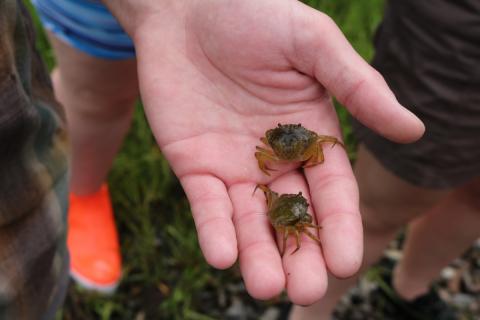 Volunteers are needed to search the coast for green crabs (Carcinas maenas) to contribute to a study evaluating the potential for a commercial fishery to help control this nonnative species. Green crabs are edible, but because they are smaller than other popular crabs, they are not commonly harvested for food. To this end, NH Sea Grant is researching when green crabs molt to explore the feasibility of a soft-shell crab market (similar to blue crabs). Green crab surveys are conducted as part of NH Sea Grant's NH Green Crab Project. 
 
What do Green Crab Survey Volunteers Do?
Volunteers will receive a brief training in crab identification and survey methods with Sea Grant biologist Dr. Gabby Bradt. Small groups of volunteers will choose, from a list of locations, an area to conduct their crab survey. Once chosen, volunteers are expected to head out into the field twice a month. As a steward of that research site, you will be in charge of recording data on green crabs and submitting your findings either on our app or a paper data sheet.
Surveys should occur for 1 hour every other week (2 hours per month). From April through September.
The green crab is an invasive species that has wreaked ecological and economic havoc along the New England coast for decades. As ocean temperatures have increased, the populations of these crabs continue to explode. Currently, there is no strategy in place to control the populations of green crabs, and there is no real commercial market or fishery for these invaders. The goal of the NH Green Crab Project is to identify a clear window of time when male and female green crabs are molting as part of the exploration of the  soft-shell green crab market and fishery in the Granite State.
Opportunities to learn about green crabs and other rocky coastal species
Contribute to a study on management of the invasive green crab
Meet people from your community with similar interests
Upcoming Opportunities: Join a Green Crab Survey!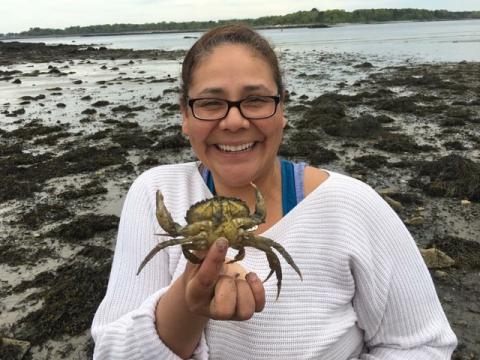 Our monthly Great Green Crab Hunts have come to an end for 2018. To learn about new green crab survey opportunities as they go on the calendar, sign up for our newsletter!
There may also be opportunities for more in-depth volunteer experiences, including trapping green crabs and helping to process green crabs at Jackson Estuarine Laboratory. If you're interested in these additional volunteer opportunities, contact Sea Grant's Dr. Gabby Bradt at gabriela.bradt@unh.edu or 603.862.2033.
Learn More: Links, resources, and partner organizations
Want to learn more? Visit the NH Green Crab Project website, check out this green crab field guide, or learn a little more about green crabs in the Gulf of Maine.
Volunteer Resources
Online data submission form - submit your green crab sightings here!
Paper version of data sheet - don't want to use the app? Use this in the field, then come home and enter your sightings online
Green crab identification guide