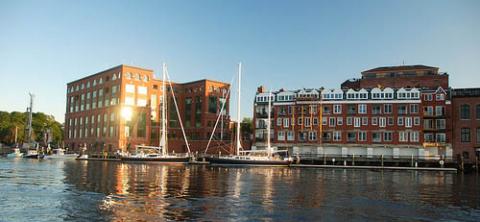 New Hampshire's coastal watershed comprises 42 towns and is recognized for its commercial, historical, cultural, recreational, natural and scientific assets. Similar to many coastal areas, this attractive coastline is under pressure from a variety of pollution sources compounded by the effects of a changing climate. Coastal communities are looking for practical and sound tools and techniques that will help them continue to be attractive and safe places to live, work and play.
NH Sea Grant Extension staff engage with coastal community leaders to help provide them with the best information, tools, processes and resources available for making decisions related to stormwater management, water quality (MS4 requirements), and adapting to changing climate conditions. They also share research ideas with scientists based on the challenges that communities are experiencing with pollution prevention and changing climate conditions.
Sea Grant Extension staff serve as educators and facilitators to help communities use inclusive processes to share new information and apply science-based data to their own priorities with as much comfort and confidence as possible. In this way, NH Sea Grant helps coastal communities increase their resilience to environmental, climatic, social and economic stresses.
Contacts
Julia Peterson
Extension Program Leader
Coastal Communities Extension Specialist
julia.peterson@unh.edu
(603) 862-6706
Lisa Wise
Climate Adaptation Program Manager
lisa.wise@unh.edu
(603) 862-2356