Seaweed As Food
NH Sea Grant has partnered with UNH Cooperative Extension and Maine Sea Grant to host local events and workshops that bring you into the field with seaweed! Attend the Seaweed Mania! events and learn about the health benefits of seaweed and how to incorporate sea vegetables (what seaweed is called once prepared for culinary uses) as an ingredient in your cooking. Don't know where to buy or find seaweed? No problem! The events can shows you the best, local sources for seaweed foraging. 
Recent workshops have featured an introduction to the types of seaweeds found on the NH coast. Learn how to identify different species of seaweed, how to handle seaweed, and how to safely forage.
The Seaweed Mania! Workshop Series debuted in February 2015 and have been some of our most popular workshops in recent years bringing awareness to the ecological and health benefits of NH seaweeds to the public. After 8 years, we are holding our final Seaweed Mania! In the Field workshops this spring and hope you can join us!
---
In the Field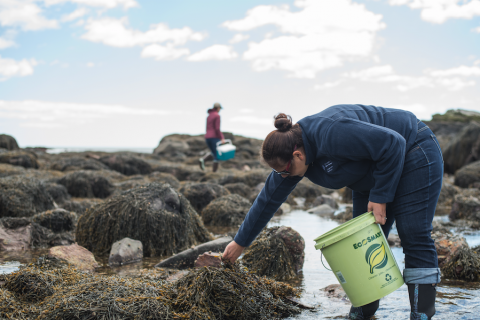 Come to the New Hampshire coast and learn how to identify and forage for edible seaweeds! You will learn about the benefits of incorporating seaweed into your diet and how to forage responsibly and sustainably. Currently, New Hampshire residents are allowed to collect up to three bushels of seaweed per day. In this class, we'll learn how to collect seaweed in areas where the water is clean, make sure the seaweed looks healthy, and clip the seaweed so that some of the blade remains to allow for sustainable regeneration.  
This workshop is fun for adults and kids and is a great introduction to the amazing world of seaweeds!
Dates: Click on the date to register.
As of March 17:
March 29, 11:30 am SOLD OUT/Waitlist only
March 30, 12:30 pm SOLD OUT/Waitlist only
April 12, 10:00 am SOLD OUT/Waitlist only
April 14, 11:00 am  SOLD OUT/Waitlist only
Cost: $15 per youth and adult participant, ages 11 and older. Children 10 years & under are free. Space is limited. Separate waitlists are available for each event. The registration system will automatically send an e-mail invitation to the top-ranked person with a twelve hour window to register.
Know before you go: We will be moving over wet, slick, and rocky terrain. Participants should wear proper foot gear (rubber boots or shoes with good traction that can get wet). Children must be closely supervised during the workshop. Thank you!
Location: Location will be announced prior to each workshop date. Locations will be in the NH Seacoast area. Previous workshops have taken place at Odiorne State Park and Drowned Forest Beach, Rye, NH.
---
2021 Virtual Event
Watch recordings of our two virtual workshops.
Seaweed Foraging - In the Field
Virtually Delicious - In the kitchen