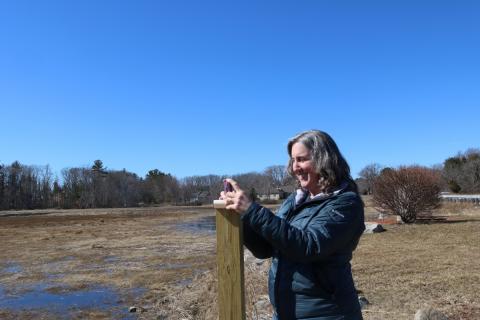 What are Picture Posts? 
CRV is working with local salt marsh natural areas to install Picture Posts, fixed points from which volunteers regularly take pictures. Photographs taken at these fixed locations build up a long-term record of changes over time. Our Picture Posts in Hampton Falls and Seabrook are part of a nationwide network of Picture Posts, with volunteers all over the country contributing photo data.
What do picture post volunteers do?
Anyone can take a photo at a Picture Post and upload it using the Picture Post website or app. CRV is setting up a volunteer schedule for our Picture Posts to make sure that we obtain at least one photograph per week. Volunteers will attend a brief training, and then they will be able to sign up online to make sure that at least one photo is taken each week at each site.
Once you've been trained and downloaded the Picture Post app, volunteering is as easy as snapping a picture! If you don't have a smartphone, don't worry: it's just as easy to take photos with a digital camera and upload them to the Picture Post website.
Picture Post photos will be used in a few ways. First, UNH is providing the photos to a local middle school for a new project to engage students in evaluating salt marsh health. Second, photos will be available to the public online as part of the global Picture Post database. Finally, photos are available for UNH researchers to monitor locally important salt marsh ecosystems.
You can see the volunteers' photos, updated live as they are collected.
Seabrook salt marsh Picture Post
Hampton Falls salt marsh Picture Post
Interest in visiting local natural areas and contributing to a long-term photographic dataset.
Meet people from your community with similar interests
Learn about local, publicly accessible natural areas you can visit
Contribute to a long-term photographic dataset to help observe change over time in our local natural areas